The K Club PGA Pro-Am
- Posted on: 03/03/2022 -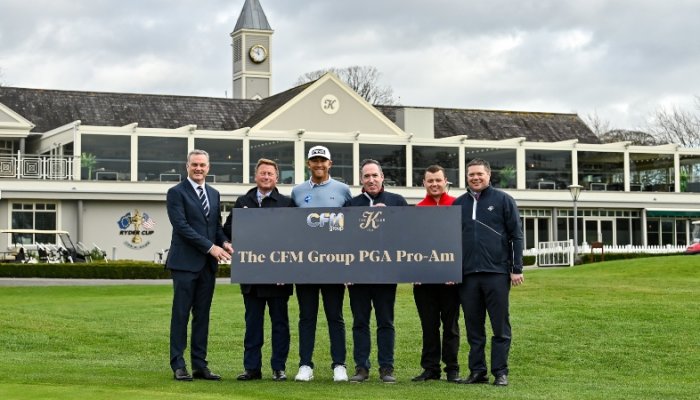 How would you like to tee it up alongside Ireland's top golf pros in Europe's largest PGA Pro-Am? This summer the opportunity is all yours at The K Club Pro-Am, the largest PGA Pro-Am to take place in Europe this year where Ireland's leading professionals will compete for a prize fund of €100,000.
The impressive prize fund is the largest for any Pro-Am by some distance. The flagship event, sponsored by CFM Group, will take place over two days on the 11th and 12th July. One hundred teams consisting of three amateurs and one professional per team will compete over 36 holes split between The K Club's two championship courses, Palmer North and Palmer South, with prizes awarded to the five leading teams after the two-day tournament.
Speaking on behalf of The K Club, Conor Russell, Director of Golf said ''The K Club are very strong supporters of both the PGA in Ireland and professional golf. On our journey towards hosting larger tournaments at the resort, this is just beginning.''
Conor Dillon, Manager, PGA in Ireland, said The PGA "is delighted to partner with The K Club in staging a Pro-Am of this magnitude, which will no doubt attract the leading PGA Professionals from around the country. This is an exciting time for The K Club and a fitting venue to host such a special event. I would like to thank the CFM Group and The K Club for their continued support of Irish golf."
Speaking on their sponsorship of the event, Paul Kelly, CFM Group said, "It's an absolute privilege for our insurance company CFM Group to be involved with The K Club Pro-Am this July. All the plans are being put in place for a wonderful event that we know is going to be the pinnacle of the golf calendar for PGA professionals in Europe, set in such a fantastic location as The K Club which really is second to none when it comes to resort golf in Ireland."
There are a limited number of team spaces available. Team entry fee is €1,600 and the closing date for entries is April 30th. For further information or to reserve your space contact Conor Russell, Director of Golf at The K Club on conor.russell@kclub.ie or call 01 601 7200