Irish LPGA star Leona Maguire takes time out to inspire local children at a special golf coaching day at The K Club
- Posted on: 23/08/2022 -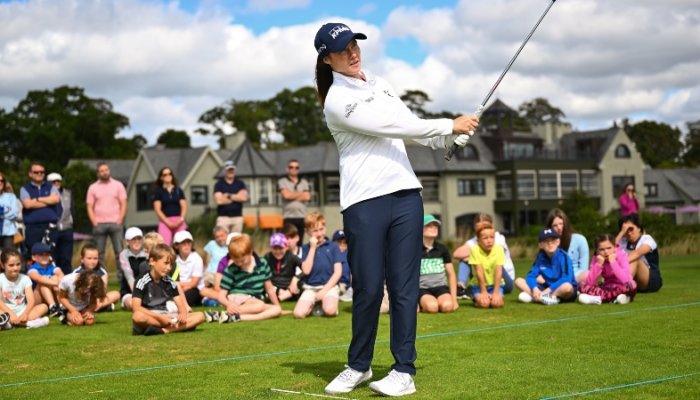 Since being announced as The K Club's touring professional in April of this year, Leona Maguire has taken the five-star Kildare resort on tour with her all over the world. This week Leona returned to base at The K Club to relax, practice her game and do something completely different on a well-deserved day off - coach 32 very lucky children, invited from Straffan primary school, Scoil Bhríde, and the local Straffan area.
Supported by The K Club's coaching professionals Gary Murphy, Darren McHale, Andrew Gorman and Director of Golf Conor Russell, Leona hosted two busy golf clinics at the resort. The first taking place on the South Course Driving Range with local children from Scoil Bhríde and the wider area who were delighted to meet and spend time with the Cavan born golfer who is now ranked 16th in the world, her highest ever ranking. The K Club's touring professional spent time answering questions and getting to know some of the future stars of the game in between swings, putts and posing for photographs.
It was then time for Leona's final golf clinic of the day with the Elite Junior Golfers, which took place in The K Club's purpose-built indoor golf simulator facility K Golf World. Here Leona fielded questions from the group and offered invaluable tips and advice as the children practiced their swings, before challenging the group to a hugely enjoyable 'Beat the Pro Competition' entertaining everyone in the room.
"I have thoroughly enjoyed my afternoon of coaching here at The K Club today," said Leona. "We've hosted over 30 children and I've been so impressed with their level of enthusiasm and genuine interest in the game. Since starting out as a junior golfer in Cavan, I've been really lucky to have access to some great advice and guidance to help me continue to develop as a golfer and so it's been really nice to share some of what I've learned and see it benefit the children here today. I hope I've inspired some of them to keep pushing forward with their golf and I'll be keeping an eye out for them in the future!"
Speaking as the coaching day came to a close, Director of Golf at The K Club Conor Russell said "it's not every day that junior golfers get the opportunity to meet a star of the golfing world and for Leona to give up her time and visit the resort to inspire the next generation of golfers was amazing. It was a very exciting day across the resort and really fulfilling to see the joy Leona brought to such a fun event. It was the perfect way to end a summer of golf here at The K Club and one these children will always remember."