Chef Traineeship Programme
- Posted on: 19/09/2022 -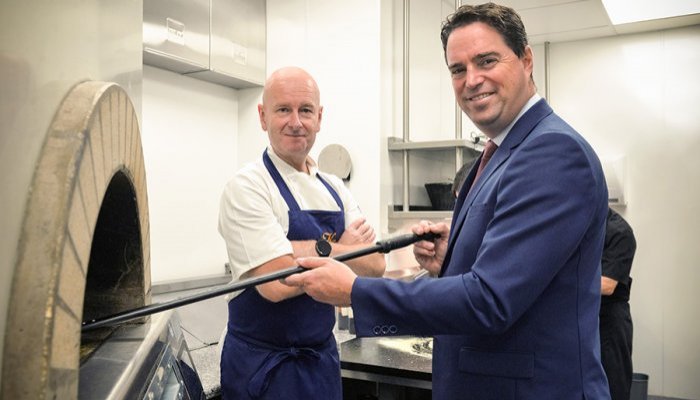 Following last year's successful launch of two new initiatives by Simon Harris, Minister for Further and Higher Education, which were delivered by Kildare and Wicklow Education and Training Board (KWETB) to support the hospitality, tourism and catering industry, this week a trio of Kildare hotels have come together to tackle Ireland's chef crisis head on.
Teams from The K Club, Barberstown Castle and Killashee Hotel have joined forces to launch a new 'Chef Traineeship in Culinary Excellence' programme which will offer all participants a 27-month contract, beginning with a practical 12-week course delivered by KWETB which facilitates hands-on learning while trainee chefs also earn a full-time salary. Upon successful completion of this practical element of the programme, trainees will then receive a two-year job offer with either The K Club, Killashee Hotel or Barberstown Castle, while also being provided with an opportunity to continue their studies on a part-time basis.
"This programme provides a marvellous opportunity for passionate entry level chefs to receive the absolute best bespoke culinary training', said Ger Alley, General Manager at Killashee Hotel. "Under the guidance of the head chefs in each property, all candidates will have an opportunity to flourish and gain the best possible start to their professional journey. We look forward to sharing our knowledge and passion for the culinary arts with this new generation of chefs."
The 'Chef Traineeship in Culinary Excellence', funded through the 'Skills to Advance' initiative, will be delivered by KWETB in their state-of-the-art training facilities with transport and accommodation for participants provided if necessary. Candidates, who must be over 18 years of age, will also be provided with meals on-site, books and a knife kit and on completion of the programme will receive a City and Guilds Level 2 Diploma in Culinary Skills.
A hugely experienced culinary professional, Philip Brazil, Executive Head Chef at The K Club, is excited to see a new initiative for the industry rooted in the region. "We are delighted to have an opportunity to work with Kildare and Wicklow Education and Training Board on this new programme and I'm looking forward to sharing my knowledge, passion and dedication to our craft from the professional kitchens of The K Club resort. This culinary arts programme will give a whole new generation of chefs an incredible foundation equipping them with the highest level of on-the-job training while also being financially rewarded for their efforts and skill."
Speaking at the launch, Ted Robinson Managing Director of Barberstown Castle also expressed his delight at the roll out of this new hospitality initiative. "This training programme will not only benefit the hotels here today but also the trainee chefs who avail of it. I would highly recommend that all hotels and similar throughout the country consider this model to address the severe staff shortages we are seeing in our industry at present."
Also present and lending his support to the programme was Martin Heydon, Kildare South TD and Minister of State at the Department of Agriculture, Food and the Marine. "I am delighted to support The K Club, Barberstown Castle and Kilashee Hotel on this initiative in conjunction with KWETB. The hospitality and tourism industry is very important to us here in Kildare and we are proud to have some fine establishments on our doorstep. This is a great opportunity for budding chefs to learn from the best and kickstart an exciting career. The Government is pleased to support initiatives such as these through the great work of the Kildare and Wicklow ETB and the 'Skills to Advance' initiative from the Department of Further and Higher Education, Research, Innovation and Science."
Eileen Cullen, Training and Innovation Services Manager, from KWETB said, "We know how successful programmes like this can be and we are thrilled to be able to collaborate on this initiative with The K Club, Killashee Hotel and Barberstown Castle. We have always been there at the forefront supporting employers across all sectors, however hospitality and tourism is very close to our heart and it has been a particularly difficult few years for that industry."
Applications for the 'Chef Traineeship in Culinary Excellence' will close on Friday 7th October and the course will begin on Monday 7th November. Potential candidates should email their CV to chefdevelopment@kwetb.ie For more information on this KWETB programme visit https://kwetbmarinehouse.ie/chef-traineeship-in-culinary-excellence