Introducing Ground Rituals
- Posted on: 13/10/2022 -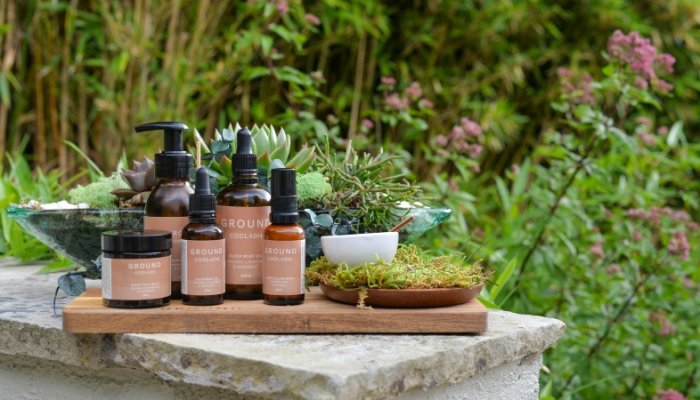 The K Spa at The Club is delighted to introduce GROUND Rituals, a new range of gorgeous body treatments designed by inspirational Irish spa expert, Peigín Crowley.
This new range of GROUND holistic treatments is inspired by how time spent in nature and the beauty of the landscape is the greatest healer, and The K Club is the perfect home for these intriguing therapies, with over 550 acres of lush grounds to explore.
Go have your adventure in the great outdoors and then surrender to a GROUND restorative ritual, created to encourage us all to 'Tóg go bog é', to take it softly, and to mind ourselves.
Handmade by founder Peigín Crowley in County Cork, GROUND is a collection of face balms and body oils that are 100% natural, giving nourishment while helping to bring focus, ritual and intention into the mind and body. The K Spa at The K Club is home to a team of award-winning veteran holistic therapists who look forward to guiding you through your GROUND Rituals therapy experience, delivering these unique body treatments.
GROUND Rituals at The K Spa have been created to celebrate the importance of taking space for sacred moments to mind yourself and be minded, to reconnect to source and to replenish. Blending mindfulness — being fully present in the body — with breathwork, the power of touch and potent aromatherapy oils, GROUND Rituals will invite this awareness while encouraging a relaxed and peaceful state, a return to self.
"Partnering with the award-winning therapists at The K Spa at The K Club has been an absolute privilege," says creative aromatherapist and GROUND founder, Peigín Crowley. "GROUND feels right at home at The K Club given the spectacular natural landscape, which lends itself beautifully to the notion of grounded rituals and wellness retreats for those looking to restore and reset, spending time in nature."
There are two GROUND Rituals at The K Spa — The 'Tóg go bog é' Full Body Massage (60 mins, €145), and The Grounding Ritual (60 mins, €145)
Each GROUND Ritual includes gentle breathwork, hands-on rhythmical pressures and techniques, including Gua Sha stones, and the compelling powers of aromatherapy oils. All these elements combine to create a mindful moment in time customised for you — a moment to be truly present in your body as you lean into relaxation and peacefulness.
After enjoying one of the exclusive new treatments using Peigín's 100% natural oils and balms, explore the new sensory spa garden at The K Spa that incorporates some of the plant elements used in the GROUND products. This outdoor relaxation area with a calming water feature and comfortable seating area, planted with a selection of complimentary herbs to the GROUND Rituals, makes the perfect setting for a leisurely afternoon tea too.