Straffan Gate Lodge & Palmer Lodge at The K Club
- Posted on: 14/07/2022 -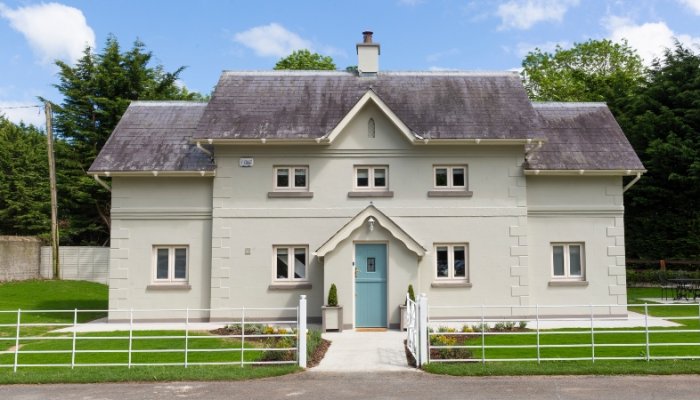 Make yourself at home at The K Club with the Palmer Lodge and Straffan Gate Lodge — two stylish, private, spacious options with access to all the resort's wonderful facilities
If you are looking for exceptional self-catering accommodation with a long list of amenities close at hand, check into The K Club this summer - perfect for families or groups who are looking to relax and enjoy something really special with all the treats and amenities of a buzzing, luxury five-star resort right on their doorstep.
The Palmer Lodge and Straffan Gate Lodge are two original gate lodges of the estate, completely restored and refurbished in a contemporary and elegant style.
Palmer Lodge has four luxury bedrooms, four bathrooms, a chic and spacious lounge and dining area and a complete kitchen, surrounded by manicured lawns and plenty of outdoor space. Straffan Gate Lodge has three king size bedrooms, three bathrooms, a spacious lounge and full kitchen and garden too, and guests staying in either house also have full access to The K Club's selection of great bars and restaurants including the stylish all-day dining venue, The Palmer. There's also the five-star resort's elegant destination option, The Barton Restaurant in the main hotel, and the bigger, bolder sister of both, South, the casual and cool restaurant and bar with an expansive terrace overlooking the Palmer South course at the resort, just in case you have no interest in availing of your excellent self-catering kitchen facilities — it is your summer holidays after all...
Everything you need and all the fun you can imagine is within a short stroll of your own front door — from the award-winning K Spa and leisure facilities, an excellent variety of restaurants and bars, two Arnold Palmer-designed golf courses, and K Golf World for when the Irish weather doesn't play ball. There's also a dazzling selection of activities that the resort's concierge can organise for you, your family or group, from stand up paddle boarding shooting and fishing to falconry, wine or whiskey tasting, horse riding and history tours. There's also an on-site kids club available — the Junior Einsteins Science Club - designed to stimulate a love of science and learning to children through hands-on, interactive science, encouraging natural curiosity and igniting enthusiasm and creativity.
Get out in the fresh country air with the resort bicycles or on foot to explore the walks and paths and the gorgeous gardens of the estate — it's the splendid grounds and all the many options to explore them that help make this your own perfect country escape.
The Palmer Lodge is available from €1,000 per night with a minimum three-night stay, with its four bedrooms available as one double and three king or twin bedrooms with a maximum occupancy of eight people, adults and children. The Straffan Gate Lodge is available for €900 per night, with a minimum three night stay and with three king bedrooms with double beds, and maximum occupancy of six.