The K Club introduces exciting new K Golf World concept at the resort
- Posted on: 04/11/2020 -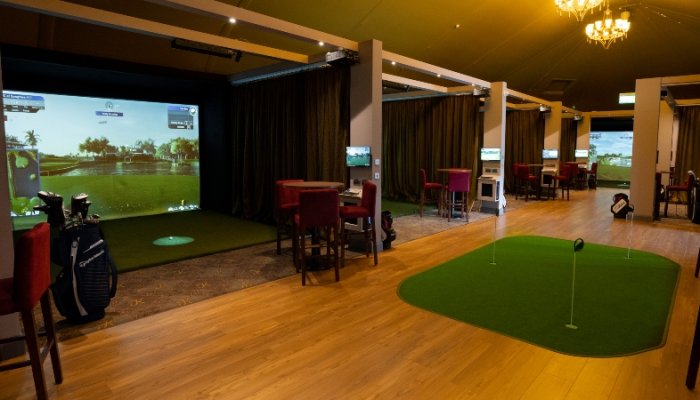 Get a taste of some of the best courses in the world at one of the most iconic golf clubs in the world — and no need to worry about the weather! The K Club introduces exciting new K Golf World concept at the resort
Winter golf is looking brighter with the opening of the K Golf World concept next month. Low handicappers to fair weather players, those who won't make it to Spain or Portugal this year, they are all welcome to The K Club to virtually play some of the world's finest golf courses, improve their game and all while leaving that wet gear at home.
K Golf World — a sophisticated, comfortable, suite of state of the art standalone golf simulators with eight spacious and high-tech bays, each accommodating maximum of four golfers at a time, and all backed with the exceptional five-star service and attention to detail of The K Club.
Imagine the enjoyment of playing the 17th island hole at TPC Sawgrass, the postage stamp 8th hole at Royal Troon, the tiny acre that houses the iconic 7th hole at Pebble Beach — and being back home in time for dinner.
Or going around Augusta a few days before they tee it up for the 2020 Masters with a beer and a hot dog from the stylish bar on site. Your designated driver can have an ice-cold 'Arnold Palmer', that legendary alcohol-free blend of ice tea and lemonade, named after the four-time Masters winner and designer of the course at The K Club.
Next to the Palmer South course at The K Club, the eight new simulators at K Golf World have unrivalled graphic quality with a user-friendly interface, delivering all the right data to drive continuous self-improvement.
With two hyper-speed cameras operating at 3,000 frames per second, which also produce a stereoscopic effect, the K Golf World simulator system provides real-time footage of ball spin, club path and true impact — and one of the very few systems available that can measure actual spin data. The overhead monitors also track both ball and club data with unmatched accuracy, allowing golfers to swing freely because of their ceiling mounts. Swing analysis cameras are directly integrated with the software in addition to the tracking cameras, and the videos are displayed after each shot to give proof of what happened, making it suitable for all users, especially club fitters and coaches.
At K Golf World you can go solo and enjoy your own virtual driving range, work on your short game complex and practice your drives, approach shots, chips and putts on any hole in the world. You and your friends can also play a virtual round and compete on some of the world's greatest golf courses from the comfort of the country's first custom-built public simulator facility, with its spacious and luxuriously furnished bays, handsome bar and excellent food.
Available from €40 to €75 per hour per bay, for further information and to reserve your time see www.kgolfworld.ie. K Golf World will open in accordance to government guidelines.